Maja and Reuben Fowkes, Potential Agrarianisms: Pluralised Histories and Reparative Futures, 16th May 16.00-18.00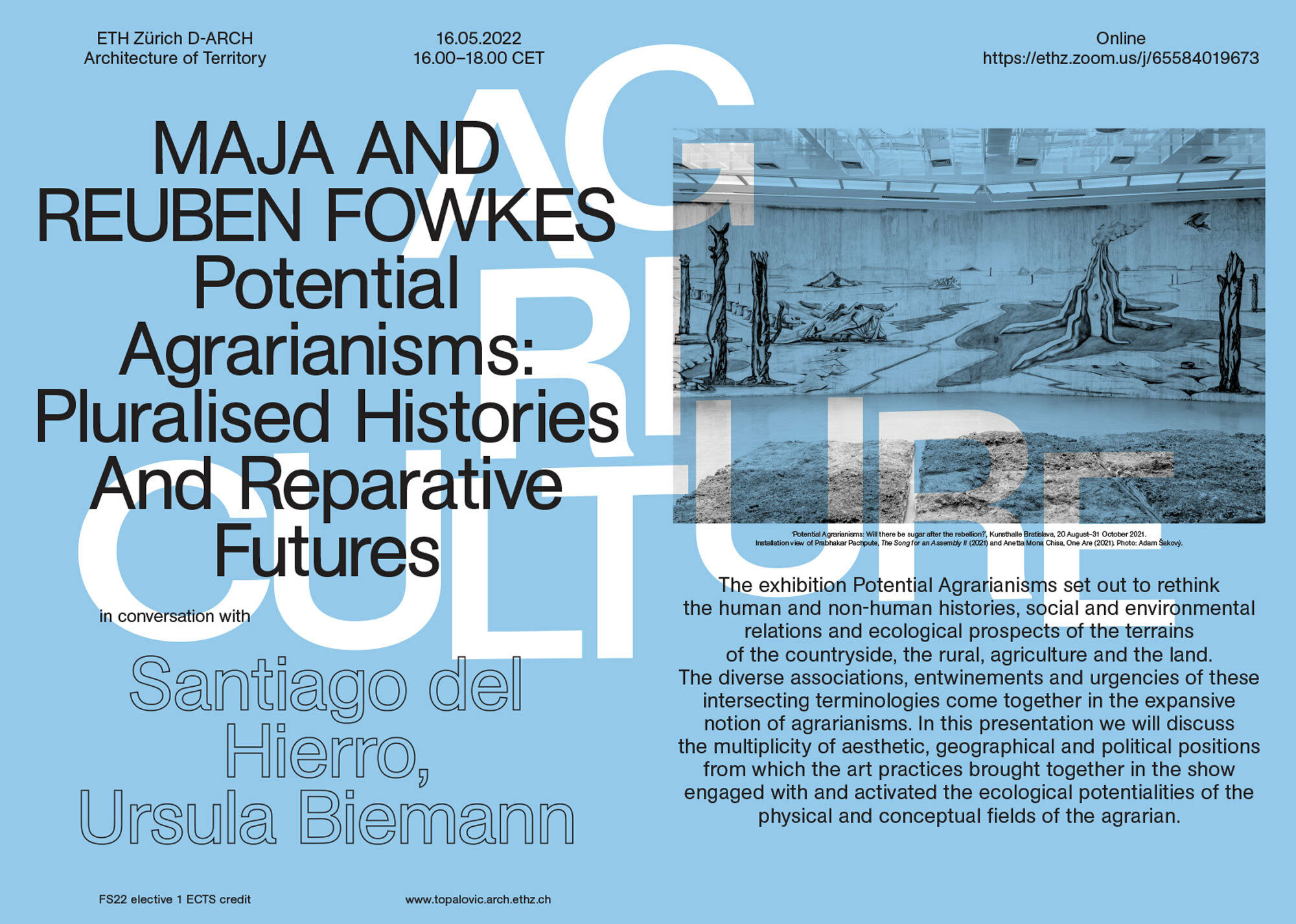 The exhibition Potential Agrarianisms set out to rethink the human and non-human histories, social and environmental relations, and ecological prospects of the terrains of the countryside, the rural, agriculture, and the land. The diverse associations, entwinements and urgencies of these intersecting terminologies come together in the expansive notion of agrarianisms. In this presentation we will discuss the multiplicity of aesthetic, geographical, and political positions from which the art practices brought together in the show engaged with and activated the ecological potentialities of the physical and conceptual fields of the agrarian. How might the uncovering of other social and environmental, but also legal and political histories of the land contribute to debates over the need to diversify, detoxify, and de-intensify agriculture? What can be salvaged from the chronicles of peasant rebellions and the legacy of agrarianism as a mid-century political project for today's struggles against corporate power and populism in the countryside? To what extent do non-western, traditional and alternative rural cultures provide models and knowledges for the restoration of caring and reciprocal relationships with the natural world?
Dr Maja Fowkes and Dr Reuben Fowkes are founders of the Translocal Institute for Contemporary Art and co-directors of the Postsocialist Art Centre (PACT) at the Institute of Advanced Studies, University College London. They will be joined in conversation by Santiago del Hierro and Ursula Biemann.
Location
on Zoom
https://ethz.zoom.us/j/65584019673
Date
16th May 16.00-18.00
Speakers and Respondants
Maja and Reuben Fowkes in conversation with Santiago del Hierro and Ursula Biemann